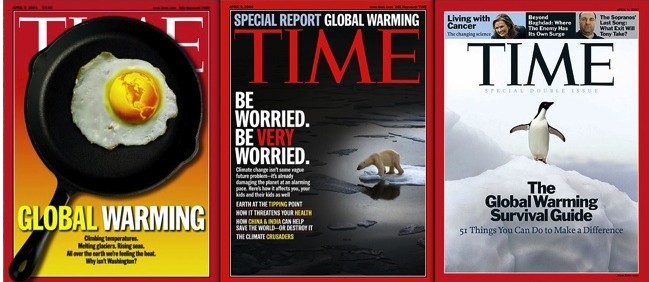 Environmental Impacts
Everything causes environmental impacts, whether it be solar activity, geothermal process, earthquakes, storms, precipitation, tides, etc... It is the nature of Nature to have environmental impacts. The issue here is the impact of human activities on the environment.
Humans do have an impact on the environment, mostly minor, but in some cases major. And it is these major cases that we need to be concerned with. The production of goods and services, as well as the production of the energy required to produce goods and services, will always have environmental impacts. The question is how can we reduce or minimize these environmental impacts. The other question is what is the cost of reducing or minimize these impacts, and is the result worth the costs. This is often the most difficult and contentious question when discussing environmental issues. And it is this question that I will be discussing in this observation.
It is often easy, but not always, to determine the costs of reducing environmental impacts. The cost of implementing environmental regulations in both monies spent, increased the cost of goods and services as a result, potential job losses, and other items can often be determined. The reduction of environmental impacts benefits is sometimes clear, but are often murky. It can be difficult to ascertain these cost benefits of environmental impact reduction, as they are often a quality of life issue, which is not often definable in costs. It should always be remembered that it is not possible to have an industrial and technological society (i.e. the world we live in) without having environmental impacts. The question, as always, is it worth it to reduce the environmental impact given the costs of doing so?
This question must always be carefully analyzed before introducing environment laws and regulations. A robust, but respectful and intelligent debate, should occur before these laws and regulations are passed and implemented. People on both sides of the issues must be willing to listen to the intellectual reasoning of the other side. This should be done as outlined in my observation "Criticism vs Critiques", and without getting into Demonizing, Denigrating, and Disparaging the other side as outlined in my observation on "Dialog and Debate".
It is only after this robust debate has occurred that a decision should be made if the benefits outweigh the cost, and only then should new environmental laws or regulations be passed. It is up to the legislative and executive branches to explain their reasoning to the American people as to why they made their decision, regardless of what the decision was.
You should also be cognizant that any cost increases to businesses to implement environmental laws and regulations are passed on to the American consumer in increased prices for the goods or services that we utilize. Therefore, it is ultimately the American consumer that pays for environmental laws and regulations. The American consumer must be willing to bear this increase for any environmental laws and regulations that are passed or implemented.
We must also be careful that we are not exporting environmental impacts to another country. This most often occurs in the mining and production of raw materials to create the products that we utilize (and don't forget the energy cost increases and their environmental impacts in the other country). This also occurs if a factory is moved to a foreign country to escape burdensome environmental laws and regulations. When these events occur you are not reducing environmental impacts, you are just shifting it to a location where it is unseen or permitted to happen. Therefore, there is no benefit to the environment when this happens, and the loss to our economy could be substantial!
My personal opinion is that we should do our best to reduce and minimize environmental impacts when the cost of doing so is not too steep, or the environmental benefit is great enough to warrant the costs.
Fascism
Four key characteristics of Modern American Fascism
Academics have fought passionately over how to define fascism, but scholars generally focus on four crucial characteristics. First fascists were nationalists: They believed the nation, rather than individuals (like liberals) or classes (like Marxists), was the key actor in political life; that it existed above or separate from the citizens composing it; and that it had a special mission or "soul" that needed to be nurtured and protected from internal and external enemies. They were also Anti-Capitalists, Anti-Liberal and Anti-Democratic, and accepted using disruption and violence to achieve their goals. Often this required a strong leader with dictatorial powers to implement Fascism.
However, today's fascists have evolved into slightly different characteristics as follows; Political Tribalism, Controlled Economy, Anti-Individual and Anti-Democratic, and Disruption and Violence.
Political Tribalism
First, Modern Fascism is no longer Nationalistic. Membership in modern fascism is determine on your political ideology and beliefs such as; Abortion, Anti-Capitalism, Anti-Israel and Pro Arab, Anti-Military, Anti-Police, Anti-Religiosity, Climate Change, Free Education, Free Healthcare, LGBT Equality, Marijuana Usage, Modern Feminism, Open Borders, Racist America, and the evilness of those who disagree with modern fascism. If you are a modern fascist and do not hold to all the beliefs of modern fascism you are intimidated or harassed into changing your beliefs, or you are ostracized from modern fascism. No dissent on beliefs is permitted, the only dissent permitted is on the means to achieve modern fascism goals.
Controlled Economy
Second, fascists shared a deep suspicion of capitalism because it is antithetical to modern fascism. They, therefore, advocate a level of state intervention in the economy unsurpassed in American history. Individual Liberty and Freedom to pursue your dreams through capitalistic success must be subsumed to the goals of modern fascism.
Anti-Individual and Anti-Democratic
Third, modern fascists were deeply anti-individual and anti-democratic. Traditional Liberalism is rejected for its promotion of individualism and individual rights, Freedom and Liberty for all, its emphasis on reason and rationality, and its acceptance of pluralism. Freedom and Liberty are only to be permitted for modern fascists. All others are to be restricted to only the Freedoms and Liberties that do on contravene modern fascism.
Disruption and Violence
Fourth, fascists embraced violence as a means and an end. Modern Fascism is revolutionary: It aims not to reform but to fundamentally transform the modern world — and for this, a constant and probably violent struggle may be necessary. Disruption and Violence was not merely the method through which revolution would be accomplished; it was valuable in and of itself, providing modern fascist supporters with a powerful "bonding" experiences and "cleansing" society of its weaknesses and decadence.
Democratic elections that not produce results that they favor are to be resisted. Only modern fascists should be permitted to run and be elected. Modern fascists in positions of political power are the only acceptable results of a democratic election. Disruption of the political process is acceptable and encouraged if modern fascists are not in political power.
Free Speech and Free Assembly is only permitted for modern fascists. Any attempt by Non- modern fascist to speak or assemble is to be violently resisted. Gangs of Jackboots are to be assembled to convince the sponsor of free speech and free assembly to cancel an event. If the event is to go forward the Jackboots attempt to prohibit access to the event. If the event proceeds than the Jackboots will attempt to shout down the speaker(s) and prevent the audience from hearing what is said.
Those non-modern fascists in political power are not to be permitted to enjoy a peaceful personal life. Any attendance in a public arena by a non-modern fascist is to be disrupted with aggressive verbal assaults and threats of intimidation on the non-modern fascists. The non-modern fascists may not even enjoy a peaceable personal lime in their own homes, as the Jackboots may assemble outside their homes and issue verbal assaults and threats of intimidation. Not only are the modern fascists disrupting the non-modern fascists home life, but they are disrupting the neighbor's home life as well. And most wickedly all is this disruption and violence is permissible to happen to the family members of the non-modern fascists.
Fascism Conclusion
Modern fascism does not want to be confused or confronted by the facts, they only want what they want. Unpleasant facts and truths that contravene their beliefs are to be ignored or obfuscated away. Double talk, smoke and mirrors, illogic, or unreason are to be utilized by modern fascism in achieving their goals. They often accuse those that oppose them as being Nazis or Fascists due to the evil connotations of these labels, without the modern fascists understanding the true meaning of these labels.
Because Fascism has such a bad reputation and connotation in today's society modern fascism does not recognize that they are fascist. Instead, they have given themselves a new name – "Modern Progressives". But make no mistake, Modern Progressives are Modern Fascists.
Gun Control
The United States Constitution, Bill of Rights - Amendment II:
"A well regulated Militia, being necessary to the security of a free State, the right of the people to keep and bear Arms, shall not be infringed."
So much argument and discussion, smoke and mirrors, and misleading statements have been applied to this statement. My observation is that we need to compare this amendment to the First Amendment:
United States Constitution, Bill of Rights - Amendment I:
"Congress shall make no law respecting an establishment of religion, or prohibiting the free exercise thereof; or abridging the freedom of speech, or of the press; or the right of the people peaceably to assemble, and to petition the Government for a redress of grievances."
The First Amendment has often been described as the right to free expression, freedom of religion, and freedom of the press. This is an encapsulation based on a broad interpretation of the meaning of the amendment. A broad interpretation of all the amendments to the Constitution is the appropriate way to ensure the freedoms and liberties we all enjoy. It has been the standard that we have employed throughout our history.
As such, we must employ a broad interpretation of the Second Amendment. Even if we do not employ a broad interpretation the Second Amendment can be interpreted literally. The Second Amendment, gun rights, is stated in two parts; the reason for the amendment, and the right to be guaranteed. Some who have advocated gun control have interpreted this amendment to only apply to people who are in the militia. This is a misreading of the amendment. The right of the people very explicitly says that the people have the right, to keep and bear arms, and it is not to be infringed.
Therefore, it is my opinion that any gun regulation or control must be constrained by the right of the people to keep and bear arms. This constraint is regarding, but not limited to, people who have committed criminal acts, or people who have certifiable mental illnesses. We should also be reminded that there are many gun laws in effect and that these laws rarely prevent criminal acts or malfeasance by individuals. The truism is that gun laws often constrained lawful citizens, and rarely constrain unlawful citizens.
Therefore, my observation of gun laws is that it must be limited by the right of the people to keep and bear arms. My other objection to gun laws is that it is not very practical.
As of 2009, the estimated total number of firearms available to civilians in the United States is approximately 310 million: 114 million handguns, 110 million rifles, and 86 million shotguns. Per capita, the civilian gun stock has roughly doubled since 1968, from one gun per every two persons to one gun per person. It must also be remembered that most gun owners often have at least a dozen rounds of ammunition per weapon, many having many dozens of rounds. This would mean that there are approximately 7 to 10 billion rounds of ammunition in the hands of Americans. Data from a variety of sources including the BATFE, Congressional Research Service, NRA, and others all tend to confirm or reinforce that number.
Given the sheer number of firearms and ammunition in the United States, it is almost an impossible task to implement significant gun laws that would in any way restrict the ability of unlawful persons to obtain firearms and ammunition. Even confiscation of all firearms and ammunition would be an impossible task, as people who are unlawful would hide and hoard firearms and ammunition. This would lead to a situation in which the lawful people would be unarmed, but the unlawful people would be armed.
So, what is to be done about gun violence? We must first review a few facts about gun ownership in the United States. About 30,000 people a year die by firearms, but the number of gun deaths every year has been declining since the 1980s. It is estimated that firearms are used 2 to 2.5 million times annually for self-defense. It has also been estimated that approximately 500,000 deaths or serious bodily harm have been stopped by the intended victim displaying or brandishing a firearm for self-defense purposes. This means that firearms are 16 times more likely to save a life and/or prevent serious bodily harm than to take a life. Those that are willing to restrict guns are therefore willing to accept the 500,000 potential deaths or serious bodily harm in order to potentially save the lives of 30,000 people. This, for me, shows that the harm of gun control far exceeds the benefits of gun control. These statistics should be compared to the rate of motored vehicle deaths which is substantially larger at 42,000 deaths a year. Tobacco is still the #1 killer in the United States causing an average of 440,000 deaths a year.
As Archie Bunker once said to his daughter Gloria (in the TV show "All in the Family") when given that number of gun deaths:
"Would it make you feel any better little girl, if they was all pushed outa windows?"
Some gun control proponents have suggested that we confiscate all guns and make the United States a gun free zone. This would require we repeal the Second Amendment, and compensate gun owners for the confiscation of their firearms. It is highly unlikely that we would repeal the Second Amendment, and is highly impractical to confiscate all guns in the United States. Even if we were to successfully confiscate 99% of the firearms and ammunition in the United States this would still leave approximately three million firearms and several hundred million rounds of ammunition. Practically all of these firearms and ammunition would be in the hands of the unlawful persons, as the confiscation would only affect the law-abiding citizens. This would make us internally less safe having that number of firearms and ammunition in the hands of people who would do us harm.
It should be noted that if someone wishes to kill another person the presence or absence of a gun is not much of a restriction of their intent. Evil will find a way to accomplish its goals; either through a gun, a knife, a blunt object, a bomb, or many other devices that can inflict death, evil will find a way to commit murder. Gun Control is not the answer, as criminals will find a way of committing violence. As previously stated the FBI statistics report that every year 500,000 acts of criminal activity are thwarted by the intended victim brandishing a gun, and possibly another 2 to 2.5 million unreported criminal activity was thwarted by the intended victim brandishing a gun. Those that wish to control guns usually control the guns of lawful citizens and not the criminals. To implement gun control is to risk the lives and safety of the two to three million law-abiding citizens in order to possibly save the lives of a few thousand. Gun control under this circumstance is untenable and morally wrong. All law-abiding citizens have the right to defend themselves and their families against criminal activity.
Some gun control proponents have suggested that we have a national registry of all firearms, and perhaps ammunition, that is in the United States. Anytime someone in the United States interacts with law enforcement and is in possession of a firearm, the police would check this database and if the firearm is not registered properly it could be confiscated. While this sounds like a solution, and in practice, it would probably be impractical. To create this registration database, and to keep it current, would be very difficult given the nature of how firearms are purchased, traded, gifted, and transferred from one lawful person to another. It would also overwhelm the justice system with appeals as to whether the confiscation was proper or not. It also raises the specter of the government interference in the private affairs of a citizen.
The impact of gun control is disproportionately unfair, affecting mostly the poor and women. This is because of the environment in which they live. A middle or upper-class environment is often a safer place to live. The crime rate is less, and the police can often respond faster as there are more police per capita, and the territory they patrol is smaller so their response time is faster.
The poor are affected because a large majority of them live in urban neighborhoods in which the rate of crime is much higher. A poor person is more likely to be the victim of a violent crime such as assault, robbery, burglary, murder, and rape. Calling the police when these crimes occur is not very effective, as it takes several minutes for the police to arrive, if they are could at all. A firearm in the hands of the intended victim is a much more effective way to stop a crime before it is committed.
Let's face it, woman are different. They are equal to men in their human rights and mental capabilities but are generally unequal in their physical abilities. In general, a man who assaults a woman is most likely to be successful in the assault. A properly trained woman has a better chance of fending off the assault, but in many cases will still not be successful. A woman confronted by a man who intends to assault her is in a much better position to defend herself if she possesses a firearm.
Guns are not the problem, it's the violent nature of the people who use them. They will find another means to commit their unlawful acts if they don't have guns. Registration or Gun Control won't help because most of the guns used to commit unlawful acts are not legally obtained or registered anyway.
The issue of mass murder is not an issue of gun control, rather it is an issue of mental illness. A mass murder occurs throughout the world, even in countries with strict gun control laws. Mass murderers have a history of severe mental illness and/or drug problems that lead to their psychosis, which leads to them committing mass murders. No gun control law can stop a mass murderer from obtaining weapons to commit their dastardly deed. A mass murderer will find a means to commit their murder, and if not a firearm they will utilize knives, machetes, blunt objects, bombs, or any other weapon they can obtain. We need better mental illness laws, and for the general public to recognize a person who is suffering from mental illness, and report them so they may receive treatment before they become violent.
As Dr. Ben Carson said after the tragedy of the mass murder of the black church members of Charleston SC in June of 2015:
"I think we have to start is going to the heart of the matter. The heart of the matter is not guns. The heart of the matter is the heart. The heart and soul of people. You know, this young man didn't wake up yesterday and suddenly turn into a maniac. Clearly there have been things in his background, in his upbringing that led to the type of mentality that would allow him to do something like this. And one of the things that I think that we really need to start concentrating on in this country is once again instilling the right kinds of values particularly in our young people. You know, we're so busy giving away all of our values and principles for the sake of political correctness that we have people floating around out there with no solid foundation or beliefs. "
To which I say - Amen!
Homosexuality and Marriage
Homosexuality
As to the nature of homosexuality, I believe that there are three bases for homosexuality. The first being nature; a gene or genome sequence that predisposes a person towards homosexuality. The next is a psychological trauma that turned a person towards homosexuality (see note). Finally, in today's society, I believe some people choose homosexuality as a lifestyle. It is not uncommon to choose homosexuality as a lifestyle as it occurs throughout history. Most notably in England in the 1920s (a very good novel "Brideshead Revisited" dealt with this subject in English society).
Imagine if you would that scientists determine that there is a gene or genome sequence that predisposes homosexuality. We could next imagine that there could be a scientific test to determine if that gene or genome sequence exists in a person. If we gave that test to all persons claiming to be homosexual what do you think would be the percentage of those people who had those gene or genome sequence. I would wager a large amount of money that it would be less than 100%. That raises the question of whether those persons claiming to be homosexual are indeed homosexual through genetics. What is to be done, if anything, for those persons claiming to be homosexual that does not have this gene or genome sequence? Would they then be adjudged to have a psychological condition that may require therapy, and should this therapy be mandatory (I certainly hope not as I believe that no person should be forced into therapy unless they present a danger to themselves or others)? The larger question then would be how to deal with those persons claiming to be homosexual and not having the gene or genome sequence.
Another large issue would be that if they can determine if a zygote/embryo/fetus has this gene or genome sequence. Would it be morally acceptable for modern medical science to correct this situation? After all, we do correct other physiological and genetic situations prenatally if it is possible. What is the morality of the parents deciding to correct this homosexual gene or genome sequence situation?
Finally, there has been much debate on how widespread homosexuality is in the population of the United States. Some claim that it is up to 10%. If this is true then any random group of people, for instance, an audience of 100 people there would be 10 people in that audience that were homosexual, or that 10% of your coworkers were homosexual. Does common sense say that this number is correct, or is it smaller than the 10%? I would again wager a large amount of money that the actual figure is less than 10%, and indeed may be less than 5%.
These observations also hold true for the entire LGBT (Lesbian, Gay, Bisexual, Transgendered) community.
Note - Psychological trauma simply means that an event has occurred that has changed a person. This event could be positive or negative, but it is an event that has changed a person.
Homosexuality and Marriage
Much has been debated, argued, and misrepresented on the nature of homosexuality. The question of nature or nurture is very important to this discussion. Some say that homosexuality is inherent in our nature via a genetic trait or genome sequence. Others say that homosexuality occurs because of some psychological trauma that occurred in the life of a homosexual. I intend to discuss my beliefs about homosexuality, and the rights of the homosexual.
If you had read my article about "A Hierarchy of Rights" you know that I believe that there are three kinds of rights; human rights, constitutional rights, civil rights. Every person has these rights, including homosexuals. The human rights and constitutional rights of a homosexual are the same as any other person that resides in the United States.
Today homosexuals are accepted within society and are free to engage in homosexuality. The topic of debate is do homosexuals have the right to marry. To properly analyze this question, and derive an answer, requires that we think about the nature of marriage.
The first question is, is a marriage a human right? There is no question that as humans we have the right to freely associate with anybody we choose to. This association may be in any form that both parties are agreeable to. Therefore, homosexual associations are a human right. There is also a human right to privacy. What you do in the confines of your own home is your business, as long as it does not violate the human rights of others who may reside in your home. The government has no business of being involved in what happens in your free associations or privacy rights, except to protect the human, constitutional, and civil rights of others who you are involved with.
The next question is, is homosexuality a constitutional right? Nowhere in the Constitution is sexuality or marriage addressed. The closest thing within the Constitution is Amendment XIX: "The right of citizens of the United States to vote shall not be denied or abridged by the United States or by any State on account of sex". When considering homosexuality as a constitutional right we must bear in mind Amendment X: "The powers not delegated to the United States by the Constitution, nor prohibited by it to the States, are reserved to the States respectively, or to the people". As the Constitution and its amendments do not directly address sexuality or marriage it can be inferred that this is reserved to the states or to the people. As to the equal protection argument you should review my thoughts on "Equal Protection and Equal Justice Under Law".
So, is a marriage a civil right? To discuss this properly we need the answer to the question of "What is the governmental purpose of marriage?" Some people believe that marriage is to affirm the love and commitment and the sharing of a life between two people. The sharing also includes all the legal and economic benefits of being recognized as partners. However, what business is it of government to affirm the love and commitment between two people. There may be governmental interest in the legal and economic benefits to be recognized as partners. To get back to the question of the governmental purpose of marriage, the original reason for government involvement in marriage is to establish a legal and economic framework for a man and a woman to reproduce, and to raise children, and those children to be the next contributing members of society. In the event of something happening to the marriage, such as divorce, abandonment, death, physical or mental cruelty, etc. the government needed to have the means to protect the children of that marriage to the best of its abilities.
As a homosexual couple cannot reproduce (except by artificial means), nor raise children (except through the auspices of adoption), there is no governmental reason to be involved in homosexual marriage, other than securing the legal and economic benefits of being recognized as partners. Securing the legal and economic benefits of being recognized as partners can also be accomplished through the power of attorney (although that method is somewhat cumbersome in practice). Therefore, homosexual marriage is not a civil right unless a state wishes to make it a civil right. There may be good reasons that a state wishes to do so, but it is up to the state legislature, as representatives of the people, to determine if they wish to do so. It is not up to the judiciary to determine this, as this is a right reserved to the state or to the people, enacted through the normal legislative process.
A state may wish to create another institution for homosexual coupling so that a homosexual couple can secure the legal and economic benefits of being recognized as partners, and they have every right to do so. This may raise other issues and concerns such as adoption, the right of a heterosexual couple to avail themselves of this form of union (and what happens in the event of pregnancy of a heterosexual couple that does so), the disposition of property and assets when the union is dissolved, etc... These issues and concerns must be fully investigated and incorporated into the laws that are created to allow for a homosexual union.
Please note that I have not expressed my opinion on the desirability or undesirability of homosexual marriage or unions. I have simply explained my reasoning on whether this should occur or not occur, and by what means in which it should be implemented.
I believe that a State, or States, can allow for a homosexual marriage if this allowance is done through the normal legislative process (i.e. not court action) of the State or States. To do so otherwise is to infringe upon the liberties and freedom of the people to determine what is permissible, or not permissible, within their state.
Given the Supreme Court ruling on homosexual marriage, I would propose a Nullification Statement as outlined in my "Government Of The People, By The People, and For The People" observation, and allow the Legislatures of each State to resolve this issue.
Illegal Immigration
Illegal immigrants (and I deliberately did not use the word alien, as this has a negative connotation in today's society) are in this country illegally, not undocumented. Their first act upon entering this country was an illegal act, entering without legal permission. It does not matter if they came in across the Mexican border or the Canadian border, nor if they came by sea or air or land, nor their country of origin, nor overstayed their Visa or did not return with a Passport, if they do not have permission to reside in the United States they are illegal immigrants. Most illegal immigrants came to this country to escape the poor economic conditions and political corruption of their country. This is an indictment of their country, and we should be trying to improve the economic situation and politics of their country so that the desire to emigrate is lessened. Most illegal immigrants are good people trying to provide a better life for themselves and their families. This is the reason that most of the people who immigrated to this country came here for. As such we should be understanding of their motivations. I suspect that they will follow the path of immigration that occurred with other groups of immigrants in American history such as the Irish, Italians, the Jews, the Asians etc. have followed (distrust, discrimination, and then acceptance).
Illegal immigration has both a positive and negative impact on our country. The positive impact is that we have increased the labor pool for low-paying jobs that provide better goods and services to our citizens. Many of these jobs are often below minimum wage (an indictment upon the minimum wage law), or of such menial task that most legal American citizens do not wish to perform them, so they are performed by illegal immigrants. The negative impact is that illegal immigrants do not contribute, via taxes, to the many benefits that they receive. Benefits such as health care, education, and other entitlement programs are often given to illegal immigrants. This cost the taxpayers of the United States thus increasing the burden on American taxpayers. They often perform low skilled jobs that other residents of America could or would perform, thereby increasing the unemployment rate amongst the lowest income people of America (most often in the Black or Hispanic population).
I also believe that employers have a legal obligation to follow all employment laws, which include paying all taxes that are required for the employment of their workers (payroll taxes). If you are not paying these taxes you are in violation of the law, and you should be punished appropriately. I realize that this will increase the cost of the goods or services that you provide, which will increase the costs for American consumers. However, that is the price of doing business in America, and those increases are part of your overhead of doing business. All Americans should be cognizant of this as part of preserving a civil society.
Unfortunately, we have also seen an increase in the number of illegal immigrants who are coming to this country for nefarious purposes (mostly drug trafficking). Illegal immigrants with criminal records in their country of origin who come here for the purpose of committing criminal acts in the United States are on the rise. We must get a handle on the situation to protect all people residing in the United States from these criminal acts. These people need to be stopped before they enter the United States, which will require more border security. Any criminal act committed by an illegal immigrant once they are in America should result in punishment to the fullest extent of the law, and immediate deportation upon their release from their punishment. To not do so is absurd. For those illegal immigrants who are concerned about deportation upon discovery of their illegal status, I would remind them the best way to avoid discovery is to commit no illegal acts. Follow all the laws, including traffic laws, and you will have a significantly less chance of your illegal immigration status being discovered.
The other issue is the integration of these illegal immigrants into the American belief system (Truth, Justice, and The American Way). Illegal immigrants tend to cluster and to hold one to their distinct heritage and culture in order to preserve and protect themselves. Their children often integrate into American society, as they are living it while they are growing up. If you came to the United States for the betterment of yourself or your family you should integrate into American culture, but that does not mean you give up your culture. You must subsume your culture within the United States culture, and not make your culture superior to American culture.
As the first act of the illegal immigrant was a crime against the United States I am opposed to giving citizenship to people whose first act was an illegal act. I am in favor of providing a legalization path, but not citizenship, to illegal immigrants who have resided in this country for many years and have committed no criminal violations. If you were a minor, under the age of 18, who accompanied your parents in illegally immigrating to the United States than consideration should be given to you obtaining citizenship under a strict protocol defined by the law and as passed by Congress and signed by the President.
Marijuana Usage
This observation is not about the harmful use of marijuana. It is instead about the societal impacts of the increase of marijuana usage. I believe that marijuana use is harmful to the psychological and physiological well-being of the user. Just as I believe that alcohol use is harmful to this psychological and physiological well-being of the user. I covered this in my observation "Addiction" later in this book. In this observation, I wish to cover three areas of increased marijuana usage that the proponents of this are not addressing; The Liability issue, The Social Services issue, and the Rule of Law issue.
The liability issue is both a criminal and civil issue. The criminal issue is fairly well resolved, in that anybody who commits a criminal act under the influence is more liable and more likely to receive a more severe sentence as a result of this criminal act. The civil issue, however, has not been fully resolved. This issue mostly impacts the insurance liability of a person or business. The following are a few scenarios that would be helpful in discussing this impact.
Let's assume that you are an occasional user of marijuana in your home. One night you are smoking marijuana and go to bed with a high. The next morning you wake up and you feel much better but there are undetectable residual effects of your marijuana smoking. Effects that you are not fully aware of. You decide to go out to breakfast, get into your car, and headed for your favorite diner. Along the way, because of the residual effects, you make a poor or slow decision and you are involved in a traffic accident. This traffic accident could result in damage to your car or the other car, or perhaps an injury or death to you or the people in the other car. After the police arrive you are giving a drug test and it is determined that you were under the influence of marijuana. What is the civil liability, or the insurance liability, for the damages that you have caused? The injured party will most likely want to make an insurance claim or sue you, for their damages. Will your civil liability be larger because you were driving under the influence of marijuana, and/or will your insurance cover you for the damages? Most people would assume that their insurance would cover the damages as if it would if it was an alcohol-related accident. This is probably the case, but it raises the issue of insurance rates. With an increase in the utilization of marijuana, there were also be an increase in the number of accidents because of the increased utilization of marijuana. Insurance companies are well aware of this, and as a result, they will have to increase insurance rates to cover the increase in the number of accidents that will result from increased marijuana usage. This rate increase will impact all who have automobile insurance, not just those who utilize marijuana.
Another scenario is that you are having a party at your house where you and your guests are utilizing marijuana. Due to the impaired judgment because of marijuana usage and accident occurs (such as a fire, personal injury to you or a guest, etc.). Again, does your homeowner's insurance cover the damages because of this accident? Most people would assume that it will, but that again means that insurance companies are going to have to increase their homeowners' insurance rate to cover for this possibility. And again, this will be borne by all homeowners, not just homeowners who utilize marijuana.
Therefore, with the increased use of marijuana in our society, there will be an increase in the automobile and homeowners' insurance premiums that will be borne by all Americans. This needs to be fully explored to determine what the impacts are. It may only be a few dollars, or tens of dollars, for all homeowners or automobile insurance policyholders, but it will be an increase. Some would say that if we cover this for alcohol we should also cover this for marijuana, as it is only fair. However, fair or unfair is not the question. The question is do we as a society wish to undertake this additional burden, and how much it will cost us?
The other issue of insurance liabilities is regarding business owners. Let's assume that you own a small business of a fleet of vans that provide transportation to senior citizens. You are very careful about who your potential drivers. You check out their traffic record, as well as any criminal record they may have, to weed out anybody who you think may be a risk in hiring. If a driver shows up for work one day and he is visibly intoxicated by alcohol or has physical signs that he is hung over from alcohol, you would not allow him to take a van out as he has impaired judgment and could be involved in a traffic accident. However, if the driver shows up for work one day and he has been smoking marijuana (either earlier in the day or the night before) he will most likely not show visible signs of intoxication from marijuana. Having no means to determine if they are intoxicated you allow them to go to work and drive a van. Because of their marijuana impairment, they make a poor decision and the van is involved in a traffic accident. Not only is the van damaged, but perhaps some of the senior citizens on the bus were injured and possibly some were killed. The other vehicle was also damaged, and possibly the passengers of the other vehicle were killed or injured. The police investigate and determine that the driver of your van was under the influence of marijuana. As there is no physical impairment while under the influence of marijuana, as there is while under the influence of alcohol, the business owner had no way of determining if the driver was fit for duty. The question is what is the legal liability of the business owner? The business owner, and possibly the insurance company, could then claim that they have no legal liability as they had no control over determining if the driver was intoxicated by marijuana. This claim is based upon the business owners being diligent to ensure they would responsibly hire a driver, and responsively make sure their drivers did not work on those days in which they believed they were unfit to drive. What are the legal ramifications of this claim, and can this defense be successful? Not being a lawyer, and not having sufficient knowledge to answer this question, I can only offer some speculation. I do know that the legal system does not like to assign responsibility to persons or entities that had done their due diligence, and had no direct control over the situation, and there may be a legal basis for this claim. Either way, this turns out it will have a large impact on society. If the business owner is not responsible (which means that the insurance company is not responsible) then the only course for the damage parties to recover their damages is to sue the individual driver. Given that most drivers are not well off you would probably only collect a very small amount, and probably insufficient to cover your damages or losses. If the business owner is responsible for this situation then the insurance company will need to increase its rates to cover the possibility of this occurring in the future. And you can be assured that the insurance companies will increase the rates for all businesses in which an employee may put the business at risk if they are under the influence of marijuana. This results in an increased cost for the businesses for insurance premiums, and that will result in increased prices for the products or services for all.
Another example of the impact on businesses for the increased marijuana usage of employees is that of a company who owns a building, factory, warehouse, construction site, etc. If that company did its due diligence in hiring employees to work in these facilities, and its due diligence in only allowing employees who are fit to work are allowed to work, and an employee was impaired through the utilization of marijuana which was undetectable, and an accident occurred the business owner could suffer losses. Perhaps the building or its contents were damaged, or perhaps other employees were injured or killed, or innocent bystanders were injured or killed, then its losses could be fairly large. As in the previous example is the insurance company responsible for those damages, or is the employee responsible. If the insurance company is responsible for the damages you can be assured that they're going to raise their rates on the business and other businesses to cover these possible damages. This will result in increased insurance premiums for all businesses and a corresponding increase in the price of their services or products which will be borne by all Americans.
This is not to mention the decrease in productivity by an employee who is impaired by marijuana usage. And the possible impact on liability insurance, and errors and omissions insurance, if the employee makes a mistake due to this impairment that impacts a business.
Do we as a society wish to incur the increased cost to business of the increased insurance premiums due to the possibility of increased marijuana intoxication on the job? These increased costs will be passed on to all the clients and customers of the business, which means that all products and services within society will increase. This impact needs to be examined in full in order to reach a rational decision to allow increased marijuana usage in our society.
The other issue is that if an employer assumes responsibility does the employer have the right to do random drug testing of his employees. If an employee is then determined to have used marijuana does the employer have the right to fire the employee, as a risk to his business that they do not wish to incur? If the employee is fired is he eligible for unemployment compensation, and what are the other impacts on society of people being fired for this reason (welfare and unemployment benefits come to mind)? Again, we need to examine this issue to determine its impact on our society.
What about the impacts on society for the increased utilization of marijuana by its populace. We know that the increase in alcohol and hard drug addiction in our society has placed a burden on society. This burden is in the increased cost of social services for the addict, the increased medical cost of the long-term impacts of addiction abuse, the emotional burden upon the family of the addicted, and the economic impact of more citizens being incapacitated by addiction. Can we expect the same impacts from increased marijuana utilization in our society? I suspect so. We must account for this increased impact in our decision to allow or disallow, marijuana usage in society. Some would respond that this is already occurring and will continue to occur and increase whether we allow or disallow marijuana usage. While this may be true, I suspect that allowing marijuana usage will accelerate this trend. We must carefully consider all these factors in determining which course to take.
Finally, there is the issue of the rule of law. I remember when Pennsylvania implemented the Right Turn on Red traffic law. The mayor of Philadelphia was adamantly opposed to this law, as he felt that it would increase traffic accidents and potential harm to pedestrians. He decided to unilaterally declare that all streets in Philadelphia were no turn on red. The law stated that a Municipal Authority had the ability to post signs on streets that the Municipal Authority determined were dangerous for a right turn on red, but there was no allowance for the Municipal Authority to do this for all streets. A lawsuit ensued in which Philadelphia lost, as it could only restrict right turn on red on those posted streets it was determined it would be dangerous to allow this. The Municipal Authority was not allowed to act outside the constraints of the State law, as so it should be in our legal system. The Municipal Authority lost because State law trumped Municipal law, just as Federal law trumps State law. To allow otherwise is to invite chaos, as then any government entity can do whatever they want if they feel it's the best thing for their citizens. And so it is with marijuana laws. The federal government has laws and regulations that deal with marijuana usage. It is detrimental too, and a violation of, the rule of law for a State to override a Federal law or regulation of its choosing. If this is to be permitted regarding marijuana usage it can be permitted in regard to anything. This is chaos personified.
As to the utilization of marijuana for medical purposes, I believe that this should be allowed. But the Federal law should be changed to allow this, and this usage should be under a doctor's supervision as there are medical issues in the utilization of marijuana. The ruse (and it is a ruse) that States are allowing their citizens to utilize marijuana for medical purposes is just a cover-up. The vast majority of people that are using marijuana in States where it is legal to do so are not doing it for medical purposes, but are doing it for recreational purposes. Anybody who would tell you differently is utilizing the Obfuscation, Smoke, and Mirrors technique that I have discussed in a previous observation.
In the 21st century, we have entered into the era of social media and 24-hour news cycles. While this has provided many benefits to the consumer there has been a downside to this era. This downside has been the posting or reporting on baseless information on individuals regardless of the facts or evidence. This has resulted in emotional distress, loss of reputation, deprivation of educational opportunities, impingement of career advancement, possible verbal or physical assaults, and their negative financial impacts. It has often been done as a means of bullying or intimidation, suppression of free speech rights, and to disparage, denigrate, or demonize an individual they may disagree with or dislike. It is much more egregious than a vicious rumor mill, as it is posted for the entire world to see or hear for perhaps forever. A retraction or correction often does not reach the same audience who read or heard the original posting or reporting and usually does not alleviate the damage caused to the affected person.
This situation must be addressed as it not only harms the person targeted but also leads to an uncivil society. The intense polarization and partisanship that we see in today's society are often fueled by this baseless posting and/or reporting. The law, so far, has not been able to assist the aggrieved party because the slander and libel laws were written and evolved in a different environment than social media and 24-hour news cycles.
As such I would propose that we change the laws on slander and libel to accommodate the realities of the 21st-century social media and reporting. I would do so in a manner that applied the following two criteria:
If you say or write anything about another person that you know not to be true, or have no evidence of its truth, you have committed slander or libel and you may be sued for such by the aggrieved party. The social media provider must provide the real name and other information to identify the person being sued. If the social media provider does not provide this information than it is an accessory to the slander or libel and may be sued as a contributing party to the slander or libel.
If a journalist says or writes about a person, without having evidence to the truth of what was said or written, or has not done their due diligence to confirm the facts, then they may be sued for slander or libel. The publisher of the journalist report may also be sued if they did not do their due diligence in confirming the veracity of the report.
Many social media platforms would respond that they are only forums and cannot control what is written or said. I agree, but I am not suggesting that they control what is written or said. I am only requiring that when someone has written or said something that results in a lawsuit for slander or libel that they help identify the alleged defendant of the lawsuit, as they may be the only party that can accomplish this identification. If they try to withhold the defendant information they then are assisting in perpetuating the slander or libel. This they should not be allowed to do and, therefore, they should be considered as a party to the slander or libel.
I am well aware of the current actual malice standard for a public official or public figure to sue for libel a journalist or publisher from the "New York Times Co. v. Sullivan" Supreme Court decision of 1964.
"New York Times Co. v. Sullivan, 376 U.S. 254 (1964), was a landmark United States Supreme Court case that established the actual malice standard, which has to be met before press reports about public officials can be considered to be libel; and hence allowed free reporting of the civil rights campaigns in the southern United States. It is one of the key decisions supporting the freedom of the press. The actual malice standard requires that the plaintiff in a defamation case, if that person is a public official or public figure, prove that the publisher of the statement in question knew that the statement was false or acted in reckless disregard of its truth or falsity. Because of the extremely high burden of proof on the plaintiff, and the difficulty of proving the defendant's knowledge and intentions, such claims by public figures rarely prevail."
- from the Wikipedia article on this subject.
The last sentence of this description (the high burden of proof required is such that lawsuits rarely prevail) is the 21st-century journalistic problem. Too often modern journalism in a rush to report has not done their due diligence on their reporting or reports on reports from other journalistic outlets that have not done their due diligence. They often caveat their reports with statements such as if true, or not independently verified, or we cannot confirm, etc. Thus the report is repeated, even if untrue, and forms a lasting impression on the viewers or readers that no retraction or correction can undo. There is also the 21st phenomena of many websites that have appeared that claim to be news reporting but are primarily rumor mills filled with unsubstantiated reports. These websites hide behind the "New York Times Co. v. Sullivan" Supreme Court decision of 1964 to insulated themselves from slander or libel lawsuits.
The question would be "What constitutes due diligence in journalism?". This can be a legally nebulous statement. However, I believe that legislators can provide general guidelines in the legislation that would be interpreted by the courts, and adjudicated during the individual trials of slander and libel by the judge and jury. It will eventually work itself out through court rulings and become settled law.
This situation needs to corrected to assure a more just and civil society. Thus, I believe, Congress must rewrite the slander and libel laws to accommodate the realities of the 21st century. These new laws will and should be, challenged up to the Supreme Court. This will allow the Supreme Court review the "New York Times Co. v. Sullivan" Supreme Court decision of 1964, and to assure that the new laws are constitutional and protects the freedoms and liberties of all Americans.
The Patriot Act
The Patriot Act, a misnomer if ever there was one, has been much discussed as to its constitutionality. These discussions have become more heated as it was revealed what the government was doing under the Patriot Act. It is just and proper that we as a people have the discussion of what the government is allowed, or not allowed, to do constitutionally within the Patriot Act. My observation of the Patriot Act constitutionality is limited to what I have extensive experience and knowledge of. Namely the bulk collection of telephone and e-mail records (or in my experience the bulk collection of data).
I have spent my entire life in the information technology field, with extensive knowledge and experience in database management systems. I have also worked in the Military Command, Control, Communications and Intelligence (MC3I) arena when I was employed at GE Aerospace systems. I have also had a historical interest in Intelligence and had done much reading on the subject. I, therefore, believe I have something to contribute to this discussion.
On one side of the issue of bulk collection of this data is the people who claim it is a violation of the fourth amendment right to legal search and seizure. These people are correct. On the other side are people who claim that without collecting this data it is more possible for a successful terrorist attack to occur, and if you are dead you have no fourth amendment rights. These people are also correct. Therefore, we seemingly have a Catch 22 as to the constitutionality of bulk data collection. I would propose a means to eliminate this Catch 22.
There are two ways to interpret the Constitution; a strict interpretation or an expansive interpretation. In the past we have employed both ways of interpreting the Constitution, depending upon the circumstances. Usually, this interpretation is based on the intent of the framers of the Constitution. I would, therefore, under the circumstances, suggest that we use the expansive interpretation of the bulk collection of data under the Patriot Act, but a strict interpretation when utilizing this data.
I am fully aware of the difficulties of obtaining data, massaging the data to be stored, and the utilization of data once it is stored. The efforts required to obtain, then massage, and utilize data can be difficult and time-consuming. It is difficult because data comes from various sources and in various formats, and the sources and formats must be massaged to fit into a uniform format that is useful. This massaging often takes a considerable amount of time to do to make the data useful. Even the simplest task can take hours or days or weeks to accomplish. When you are dealing with multiple sources and multiple formats you are adding a considerable amount of time and effort to achieve your goal. I would, therefore, use the expansive interpretation of the Constitution in order to allow for the collection of this data so that it is available on a timely basis to help prevent terrorist attacks.
The opponents of the bulk collection of data often say that this data is not helping to prevent a terrorist act. This is probably true, but it also contains a misunderstanding of what Intelligence can or cannot do. Intelligence is a very imprecise activity and can lead to incorrect or incomplete information. Very rarely is it precise and definitive. Most often it is more correct when you have a broad base of information to reach generalized conclusions. Usually, there is no single piece of information that allows you to take actionable activities. You should also keep in mind that only rarely do you hear of the successes of an intelligence activity. On occasion, you hear of the failures based on Congressional investigations, whistle-blowers, or perhaps a deliberate leak by an intelligence agency to provoke a response from the enemy.
This is best illustrated by an intelligence activity at the start of World War II. The Americans had broken the Japanese naval communication codes and were able to read these communications. However, this process was often time-consuming and imprecise, and there was a lot of communications that had to be waded through to obtain useful intelligence. These communications were rarely specific for actionable combat usage. The military intelligence based upon these communications were used to help determine a pattern of activities of Japanese naval forces, in the form that could help them to determine if the Japanese were planning a naval attack and invasion. They knew from other intelligence that the Japanese were planning a large-scale attack, and they were even able to identify the target by its code name Target AF that was being used in many disparate Japanese naval communications. They did not know the location of AF, nor were they sure of when this action would occur. They suspected the target may be Midway Island, as it made sense for the Japanese to seize this island and its airfield, to utilize it for more aggressive Japanese actions in the Pacific. They then intercepted a Japanese surveillance plane transmission that reported that it had passed by Target AF and there was no activity worth reporting. Their tracking of Japanese surveillance planes led them to believe the only one plane that could have reported this, and it had only flown by Midway Island. In order to confirm this suspicion, they decided to create a ruse to see if they could pinpoint target AF. They had Midway island openly transmit over the radio that their fresh water supplies were low because the desalinization plant was broken (and untrue statement). The Japanese military intelligence picked up this transmission and then reported that target AF was having fresh water problems due to the failure of the desalinization equipment. Military intelligence now knew that the target of the invasion was Midway Island. When they discovered the Japanese fleet had left port they knew approximately when the invasion was to occur, based on the time it would take the fleet to reach Midway Island. Adm. Nimitz (the Supreme Naval Commander in the Pacific) then ordered a fleet opposed invasion, target Midway (despite the concerns of the military brass in Washington as to the accuracy of the intelligence), and the American fleet was able to bushwhack the Japanese fleet. This resulted in the destruction of four major Japanese aircraft carriers, the loss of many Japanese airplanes and pilots, and various other sinkings of Japanese military vessels. This was a great victory, and stopped aggressive Japanese Naval operations in the Pacific, and led to a shortening of the war effort. All this military intelligence effort was done by the collection of vast amounts of information, and putting it together into actionable intelligence.
This is why today's intelligence needs to bulk collection of phone and e-mail messages. They need to gather a large amount of data so they can find a pattern, and focus on this pattern so that they can create actionable intelligence. We, the American people, will never know the success or failures of this intelligence as it must be kept a secret to be useful. The members of Congress who are responsible for the oversight of these activities should be fully informed as to the successes and failures to determine the efficacy of these efforts. We, the American people, must trust the elected officials who are providing this oversight to preserve, protect, and defend our rights during this collection and utilization process.
But we, the American people, need to know the broad outlines of how and what they are going to be confident that our elected representatives are doing their job in monitoring the intelligence agencies. This is where I will propose a strict interpretation of the Constitution regarding the utilization of the bulk collection of data. I would propose the following broad outlines as a means of instilling confidence in the American people that their rights are being reserved, protected, and defended.
In the information technology arena, it has often been pointed out that there are only three basic things that information technology does. They are; input, processing, output. I would utilize this model as the basis for the bulk collection of data. The following diagram will be helpful for this discussion: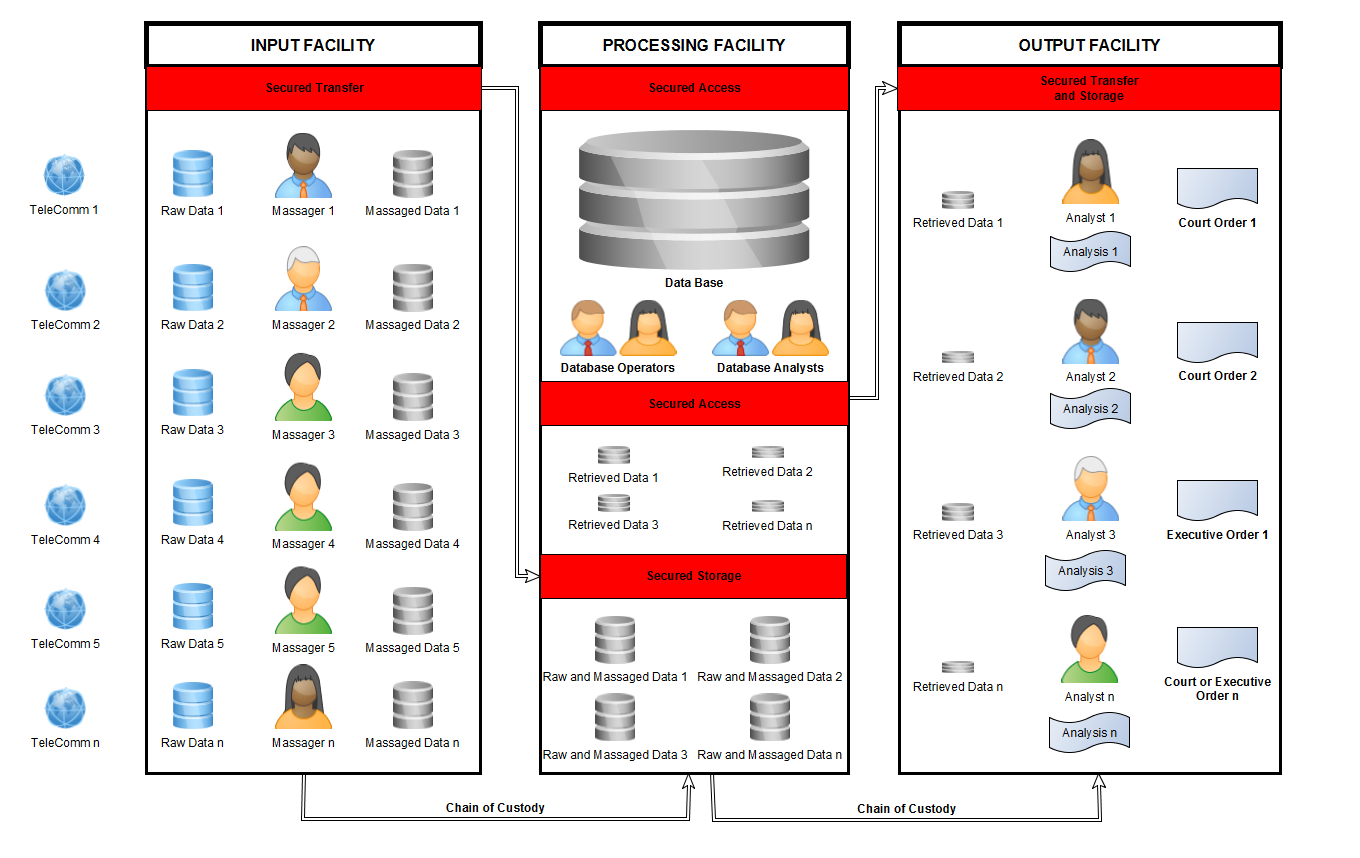 Meta-data information would be received into the Secured Input Facility from a Telecom company, and be stored on a portable hard drive. A data massager would then convert this data into the standard format to be included in the database, with the converted data being stored on the same portable hard drive as the Raw Data. The Processing Container facility would be a secure facility with NO telecommunications capabilities, to ensure it cannot be hacked. The Raw and Massaged Data portable hard drive would be transported and stored in the Processing Facility. The Database Operators would take the massaged data and load it into the Data Base, then store the portable drive in a secure location within the Processing Facility. The Database Analysts would be Intelligence Officers who would be responsible for searching the Data Base to find patterns of possible terrorist activities. Once a pattern is discovered they then obtain a FISA (Foreign Intelligence Surveillance Act) court order to obtain the data on individuals and/organizations that the FISA court has authorized. This data, and only this data is retrieved from the Data Base and saved on a portable hard drive, which is then physically transported to the Output Facility. The Output Facility would be responsible for the intelligence analysis of the retrieved data under the current standard operating procedure and laws. A Legal Chain of Custody would be implemented for all steps and phase for this process in the event of a prosecution.
To reiterate, the Processing Facility has no external electronic communications capabilities to assure that it cannot be hacked. The Input and Output Facilities have electronics communications capabilities, in the most secure manner possible, so that they can perform their tasks.
However, I believe the FISA Court needs to be reorganized to assure the Fourth Amendment rights of Americans are being protected. Today the FISA Court is composed of Judges and Government Attorneys who present their case to the Judges. There is no counterbalance to the Government Attorneys to assure American rights are being protected. I would add Civil Rights Attorneys whose job would be to challenge the Government's case to assure the Judges receive all possible points of view. I would also allow for an Executive Order to initiate a Data Base retrieval in the case of an immediate threat to our security. However, the Executive Orders would be reviewed by the FISA Court in an expeditious manner to determine their proprietary and legality. This entire process would be under Congressional Oversight, with the appropriate Congressional committees receiving regularly scheduled briefings on all that has occurred since the previous briefing.
All the people involved in this process would be under severe criminal prosecution if they fail to obey the rules, regulations, and procedures to assure that this information is protected, and the rights of Americans are guaranteed. I believe if all these steps are implemented then Americans can be assured that their rights are being protected, and their security is enhanced.
Taxes
Our Taxes
Taxman
by The Beatles
Let me tell you how it will be
There's one for you, nineteen for me
'Cause I'm the taxman, yeah, I'm the taxman
Should five per cent appear too small
Be thankful I don't take it all
'Cause I'm the taxman, yeah I'm the taxman
If you drive a car, I'll tax the street,
If you try to sit, I'll tax your seat.
If you get too cold I'll tax the heat,
If you take a walk, I'll tax your feet.
Don't ask me what I want it for
If you don't want to pay some more
'Cause I'm the taxman, yeah, I'm the taxman
Now my advice for those who die
Declare the pennies on your eyes
'Cause I'm the taxman, yeah, I'm the taxman
And you're working for no one but me.
Songwriters: GEORGE HARRISON
© Sony/ATV Music Publishing LLC
For non-commercial use only.
Death and Taxes is a truism of life. Now they even tax you after death in the form of Estate Taxes. And you should never look at a statue of a politician with his hand in his pocket and think it is realistic, as his hand is actually in your pocket.
Taxes are a necessary evil. Evil because they force a person to hand over their hard-earned money through threats of fines or imprisonment. Necessary because the proper and needed functioning of government is essential to ensure a peaceful, justice, and a civil society and taxes are required to operate the government.
Our Tax System
Prior to the 16th amendment of the Constitution, Federal taxes were indirect taxes. This was because our Founding Fathers knew that a direct tax was on individuals was an opportunity for the government to abuse an individual's freedoms and liberties. Direct taxes on an individual meant the possibility of direct control of an individual, and direct control of an individual was abhorrent to the Founding Fathers. And so, the Constitution did not allow for direct taxes, as stated in Article I, section 9, of the Constitution:
No Capitation, Or Other Direct, Tax Shall Be Laid, Unless In Proportion To The Census Or Enumeration Herein Before Directed To Be Taken.
Note – a Capitation is a tax levied on the basis of a fixed amount per person.
However, as government grew and expanded at the beginning of the 20th century indirect taxes were insufficient to support the proper and needed functioning of government So Congress passed on July 2, 1909, and the States ratified on February 3, 1913, the 16th Amendment of the U.S. Constitution. This amendment states:
The Congress shall have power to lay and collect taxes on incomes, from whatever source derived, without apportionment among the several States, and without regard to any census or enumeration.
And that is one breathtaking statement. It effectively says that Congress can tax any income, at any rate, and without any regards to any other factors. There is also no checks and balances within that statement to protect the freedoms and liberties of the American people. The only restriction on this power is The Equal Protection Clause that is part of the 14th Amendment to the United States Constitution. And a legal argument can be made that any amendment to the Constitute supersedes any previous amendment, and if this is so the 14th amendment protections may not fully apply to the 16th amendment powers.
At the time it was passed it was implemented innocuously, and with minimal impacts on American society. But as time went on, as is the case with all government activities, more and more sources were taxed, more and more people were taxed, more and more tax rates were increased, and more and more special interest exemptions were included. And today we have one of the most bloated, convoluted, least understandable, economically impactful, preparation time and money consuming, and oppressive tax codes in the world. And it is harming all Americans. The only people it seems to help are the politicians who run for or against it or parts of it, the special interest groups who benefit from its exemptions, and of course the government bureaucrats who administer it.
The IRS is also not only a collection agency but an enforcement agency. It has its own rules, regulations, and procedures for enforcement, not subject to prior judicial approval before it acts against suspected tax cheats. The IRS must have only a suspicion that a tax violation has occurred, and it can seize your assets (money, property, business, etc.) before proving the suspicion in the Tax Court, and even without prior notification of the seizure to the suspected tax cheat.
In criminal cases, the government can confiscate assets only after a conviction. Under "civil forfeiture", however, it can grab first and ask questions later. Property can be seized merely on the suspicion that it has been involved in a crime. Citizens have no right to a swift hearing. For an individual or small business, this can be fatal. In many civil-forfeiture cases, the agencies that seize the assets keep most of the proceeds and can use them to pad their budgets. It is hard to know how common this is, but some reputable studies estimate that this may be between five hundred million to a billion dollars a year. And the IRS operates its enforcement under the doctrine of civil forfeiture.
The United States tax court is a federal trial court of record established by Congress under Article I of the U.S. Constitution, section 8 of which provides (in part) that the Congress has the power to "constitute tribunals inferior to the Supreme Court". The Tax Court specializes in adjudicating disputes over federal income tax, generally prior to the time at which formal tax assessments are made by the Internal Revenue Service. Though taxpayers may choose to litigate tax matters in a variety of legal settings, outside of bankruptcy, the Tax Court is the only forum in which taxpayers may do so without having first paid the disputed tax in full. Parties who contest the imposition of a tax may also bring an action in any United States district court, or in the United States court of federal claims; however, these venues require that the tax be paid first and that the party then file a lawsuit to recover the contested amount paid (the "full payment rule" of Flora v. the United States). Tax court judges are appointed for a term of 15 years, subject to presidential removal for "inefficiency, neglect of duty, or malfeasance in office...." the U.S. Tax Court "is not an agency of, and shall be independent of, the executive branch of the government."
This effectively means that regarding taxes you are presumed guilty, until you can prove your innocence, and the government can do as they wish with your assets until you prove your innocence. And the legal and financial efforts to prove your innocence can be very burdensome and time-consuming. And the economic impacts of not having control of your assets, as well as proving your innocence, can often result in bankruptcy or impoverishment. And if it turns out that the IRS was wrong in its judgment, well, you may get an apology - but don't hold your breath waiting for one.
Our Tax Politics
"Don't tax you, don't tax me, tax that fellow behind the tree!"
- Russell B. Long
The cries of Reform the Tax Code, Make the Rich Pay Their Fair Share, Middle Income Tax Relief, Tax Relief for the Poor, Flat Tax, Fair Tax, National Sales Tax, Value Added Tax, blah, blah, blah, ring throughout the land, especially during an election season. And yet nothing significant ever happens. Inertia is certainly one of the reasons for this inactivity, but inertia is not the major reason. The major reason is "Factionalism".
Political party factionalism, special interest groups' factionalism, socio-economic factionalism, business factionalism, and even racial factionalism is the major reason for this inactivity. Everybody has their pound of flesh in the tax code, and everybody wants to protect their pound of flesh. And so, nothing of any significance gets done.
Many people implore the government to start over again with the tax code and do so in a bi-partisan and common interest manner. But as is so often the case in bi-partisan and common interest calls, it is bi-partisan and common interest utilizing their precepts and protecting their pound of flesh. And so, nothing of any significance gets done.
The problem is not one of just the tax code needing reformation, but the larger issue of what is the proper taxes to be levied? Until we can answer this question we cannot reform the tax code. Until a large consensus is reached on what taxes are proper and required in today's society there will be no reform of the tax code. And until the people elect in large majorities those politicians who answer this question to their satisfaction there will be no reform of the tax code.
So, if you wish to reform the tax code you had better get your answer straight. And you had better demand that politicians support your answer, and you had better work for the election of politicians who support your answer, or at least the un-election of politicians who do not support your answer. Until this is done there will be no significant reform of the tax code.
As far as the fairness of the Individual Income and Corporate taxes you should consider the charts on the next two pages. As can be seen from these charts the issue of "fairness" in both revenue and spending is one of your perspective on what is "fair". For those who would say that you should not count Payroll Taxes as revenue as they are paid back to the taxpayers (eventually), I would say as those payments are part of the Federal Governments spending so should they be included in the revenue. This is not including the fact that the revenue of the Payroll taxes is not keeping pace with the expenditures to the recipients', leading to fiscal deficits in these programs.